Taxes
Executives:
Victor José Galloro – Director – (+55 11) 3255 0555 Extension 3403 – vjgalloro@galloro.com.br
Vicente Galloro – Commercial Director – (+55 11) 3255 0555 Extension 105 – vicente@galloro.com.br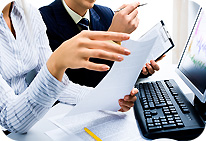 With a team up to date on tax legislation, we develop a unique methodology for managing taxes.

Our work method does not follow the concept of applying standard formulas for all clients; the services we propose are designed to satisfy your specific needs.


Bookkeeping of tax ledgers
Calculation and filling out of federal,
state and municipal tax forms
Assistance in import processes
Certificates of good standing
(taxes & contributions)
Handling of inspections and audits
Income tax statements (corporate and personal)
Permanent tax advice
Tax planning
Fulfillment of accessory obligations
Consulting and advisory services
If you would like more information or have any doubts about these services, please contact one of the executives listed above.