Consulting
Executives:
Ana Maria Galloro – Director – (+55 11) 3255 0555 Extension 3400 – agalloro@galloro.com.br
Vicente Galloro – Commercial Director – (+55 11) 3255 0555 Extension 105 – vicente@galloro.com.br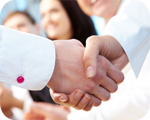 With our experience in your favor, you will have greater assertiveness when making important decisions and you can count on our instructions to guide you through the best alternatives available.



Make monthly visits to review procedures adopted by the company in relation to fulfilling its main and accessory tax obligations in the federal, state and municipal spheres, with sufficient time in advance to identify and correct problems that may subject the company to unforeseen losses or fiscal contingencies.
Answer telephone and/or written queries regarding doubts pertaining to this area and that do not involve specific studies and plans.
Conduct hypothetical studies of the most advantageous taxation allowed by Brazilian legislation, which the company can then opt for with the objective of minimizing its load of taxes, fees, contributions and charges;
Issue formal opinions in the various areas we specialize in that require more in-depth and specialized professional research;

If you would like more information or have any doubts about these services, please contact one of the executives listed above.