International Service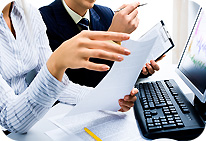 When starting up activities in Brazil, you need to take into account the many cultural and legal barriers that exist as a result of a country's inherent characteristics.

We at Galloro have a seasoned team of professionals to assist foreign companies and help better understand the environment that surrounds them.

As a Galloro client, your company is in the hands of experienced service consultants. They are professionals who lead integrated teams with the objective of helping you achieve your business goals by offering practical and cost saving solutions. Our team is composed of qualified professionals who have already solved problems similar to yours.

Our technical qualifications transcend the typical services offered in the accounting, tax and labor areas, comprising a vast series of disciplines necessary for satisfying your corporate needs. Galloro offers a wide variety of high quality services to service your immediate needs and long-term goals. Our work method does not follow the concept of applying standard formulas for all clients; the services we propose are designed to satisfy your specific needs.

We offer international support in all fields we work in, which constitutes one of Galloro's competitive advantages. Make your company's life a whole lot better and easier in Brazil by working with us.